These creamy, savory and delicious pancakes are the perfect dish for unexpected guests. When you need to get breakfast on the table minutes, turn to this tried-and-true recipe for a delectable dish that will have everyone reaching for more. Serve topped with fresh berries, and pour a mimosa, for a perfect way to start the weekend.
Ingredients:
2 ½ c. prepared pancake mix
2 2/3 c. skim milk
2 c. ricotta cheese
Directions:
Whisk together pancake mix, skim milk, and ricotta until just smooth, adding more milk if necessary to achieve a creamy consistency.

Heat a lightly oiled skillet or griddle over medium high heat. Drop batter by ¼ cupfuls onto the griddle, cooking until bubbles begin to form. Flip, and cook until golden on other side. Repeat until all batter is used.
Author:
.
Back to the Pancake Recipes home page.
Conversions
2 ˝ cups
about 591ml (591.475 mililitres based on 236.59 mililitres in a US cup)
2 2/3 cups
about 631ml (630.9855 mililitres based on 236.59 mililitres in a US cup)
2 cups
about 473ml (473.18 mililitres based on 236.59 mililitres in a US cup)
Data:
Published: February 5, 2012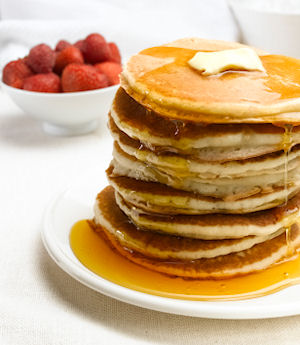 Similar Recipes:
Potato Pancakes
Delicious and savory potato pancakes, or latkes, are a simple, delicious, and hearty addition to any meal. Shredded potatoes an...
Mexican Potato Pancakes
A zesty and tasty alternative to potato pancakes or latkes, this Mexican inspired version features diced tomatoes, onions and j...
Wild Rice Pancakes
A nutty, healthy, and unique way to start any day, these wild rice pancakes are so tasty you won't believe they're packed with ...