Gluten Free Pancakes

recipe
For those of us with gluten sensitivities, pancakes may be a long forgotten treat, but this gluten free alternative replaces all-purpose flour with rice flour, tapioca flour and potato starch. Grill to perfection, drizzle with maple syrup, and marvel at the rich and savory taste of these alternative and tasty pancakes.
Ingredients:
1 c. rice flour
3 Tbsp tapioca flour
1/3 c. potato starch
4 Tbsp dry buttermilk powder
1 tsp sugar
1 ½ tsp baking soda
½ tsp salt
½ tsp xanthan gum
2 eggs
3 Tbsp canola oil
2 c. water
Directions:
In a large bowl, sift together rice flour, tapioca flour, potato starch, buttermilk powder, sugar, baking soda, salt and xanthan gum.

In medium bowl combine eggs, water and oil and beat. Stir into flour mixture until smooth.
Author:
.
Back to the Pancake Recipes home page.
Abbreviations
c
cup
tbsp
tablespoon
tsp
teaspoon
Conversions
1 cup
about 237ml (236.59 mililitres based on 236.59 mililitres in a US cup)
1/3 cup
about 79ml (78.7845 mililitres based on 236.59 mililitres in a US cup)
2 cups
about 473ml (473.18 mililitres based on 236.59 mililitres in a US cup)
Data:
Published: February 5, 2012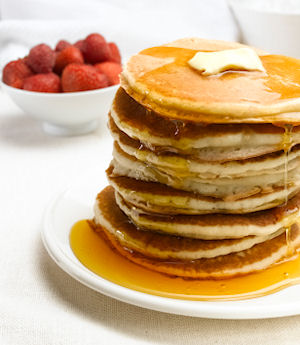 Similar Recipes:
Blueberry Pancakes
A delicious way to start any day, this classic recipe features the sweet taste of fresh blueberries folded into the batter and ...
Red Velvet Pancakes
Red Velvet is a decadent, to die for dish that makes any meal memorable, so why not bring it to the breakfast table in the form...
Gingerbread Pancakes
If you want a delicious, savory and sophisticated breakfast this weekend, whip up a batch of these gingerbread pancakes. Coffee...